Eco-friendly Shower Faucet Replacement Keeps More Green in Your Pocket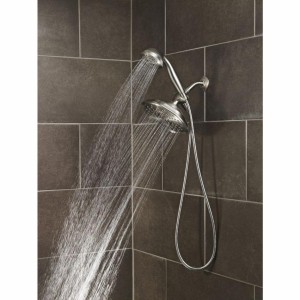 An easy way to save on water usage in the home is to install eco-friendly plumbing appliances. Today, there are more sustainable fixtures to choose from that won't set you back financially or interfere with convenience. If you need shower faucet replacement, consider installing a green shower head.
Green Plumbing Is Convenient
Many homeowners are initially skeptical of green plumbing solutions because there assume that water pressure will be affected. While this may have been the case years ago when eco-friendly faucets were first introduced, a lot has changed in terms of design and water output. Low-flow plumbing fixtures, which include toilets, kitchen and bathroom faucets, and shower heads, are manufactured to reduce water flow without reducing water pressure. At Valencia 24 Hr Plumber & Drain Pros, we're always pleased to see how surprised our customers are when they use an eco-friendly faucet for the first time.
How Eco-friendly Faucets Work
Whether it's a shower head or a kitchen sink faucet, eco fixtures work mostly the same way. While the fixture may emit fewer gallons per minute than traditional fixtures, eco plumbing injects bursts of air into the stream of water. This burst of air keeps water pressure high and makes an eco-plumbing fixture feel just as powerful as an older fixture that uses twice as much as water. Purchasing high-quality fixtures means that there will never be any discernable difference in water pressure, just a noticeable difference in your water bill.
Call a Local Plumber for Shower Head Installation
If you're ready to upgrade to an eco-friendly shower head, call a licensed plumber in Valencia. Hiring a plumber for professional shower faucet installation will ensure that the fixture is affixed correctly and adjusted accordingly.
Valencia 24 Hr. Plumber & Drain Pros is the leading eco-friendly plumber in Valencia, providing quality plumbing repair and replacement that is always guaranteed, budget-friendly, and available around the clock. Call us at your earliest convenience to learn more about our company and our services.